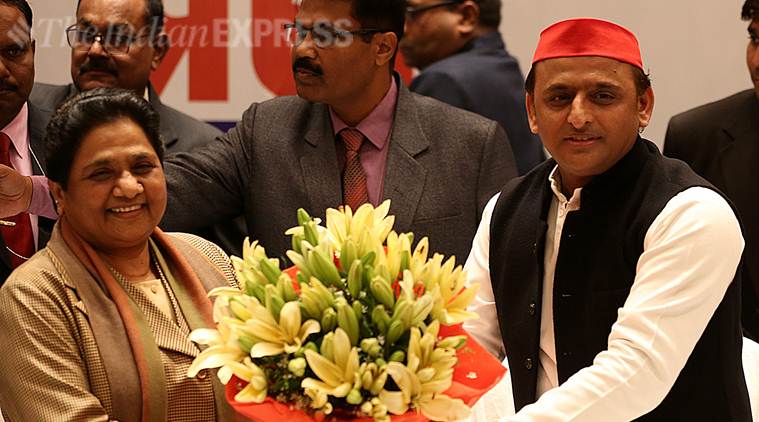 With flags of both SP and BSP waiving outside the venue of press conference, and workers of both the parties shouting together "Jai Bhim", "Jai Mayawati" and "Jai-Jai-Jai Akhilesh", BSP Chief Mayawati and Samajwadi Party chief Akhilesh Yadav announced alliance of their parties sharing 38 seats each and leaving four seats i.e. two for Congress bastion — Rae Bareli and Amethi — and two for possible future alliance.
"Yeh naye varsh 2019 mein nayi rajnaitik kranti ka sandesh mana jayega," (This will be regarded as a new political revolution in the new year 2019) Mayawati said about the alliance, adding that this alliance was not just to win election but to also act as a strength of backwards, Dalits, deprived, youth, labourers, Muslims etc. She said that the alliance would reap benefit of votes to each other just like earlier alliance between former BSP Chief Kanshiram and former SP Chief Mulayam Singh Yadav in 1993.
"Lucknow guest house kand se bhi upar uthate hue..ekbar phir humein usi prakar ki dushit sampradayikta ke mauhaul ko dekhte hue gadhbadan ka faisla liya.." (On seeing the toxic and communal environment, we decided to once again enter into alliance, which could not continue for a long because of some serious reasons, by even rising above the guest house incident).
SP Chief Akhilesh Yadav, on the other hand, told BJP as well as his workers that respect of Mayawati is his respect and he would regard any disrespect towards Mayawati as his own disrespect. "Adarniya Mayawati ji ka samman mera samman hai..agar Mayawati ji ka koi apman karta hai to mera apmaan hai.." said Akhilesh.