Govt. yet to reply to proposal to set up 16 courts for speedy disposal of such cases
Over 10,000 cases of sexual assault against women and children, including rape, are pending in special courts in the city. Despite this, the Delhi government is yet to reply to a nine-month-old Union government proposal to set up 16 more fast-track special courts (FTSCs) in Delhi to dispose such cases.
These 16 courts are part of 1,023 FTSCs proposed to be set up across the country by the Central government using Nirbhaya Fund, to speed up the disposal of cases.
The Central government had sought comments from the Delhi government on the proposal of 16 FTSCs at least nine months ago
Pendency on the rise
When the State government contacted the High Court on the matter, the latter said with the pendency of cases increasing every year, the city needs 59 FTSCs to dispose off 10,009 pending cases, as on December 31, 2018. It also told the government that according to the 11th Finance Commission, one such court can deal with up to 168 cases a year.
When reached out, Delhi Law Minister Kailash Gahlot told The Hindu, "It is being processed and comments are being sought from different departments, "
The cases are pending before 26 special courts in the city — 16 POCSO courts, dealing with sexual offences against children and 10 special fast-track courts, dealing with sexual offences against women.
On November 16, 2018, the Women and Child Development Ministry of the Central government had approved the proposal to set up 1,023 FTSCs to dispose off pending cases of rape and POCSO Act across the country. According to an official statement, the project has a total financial implication of ₹767.25 crore from Nirbhaya Fund.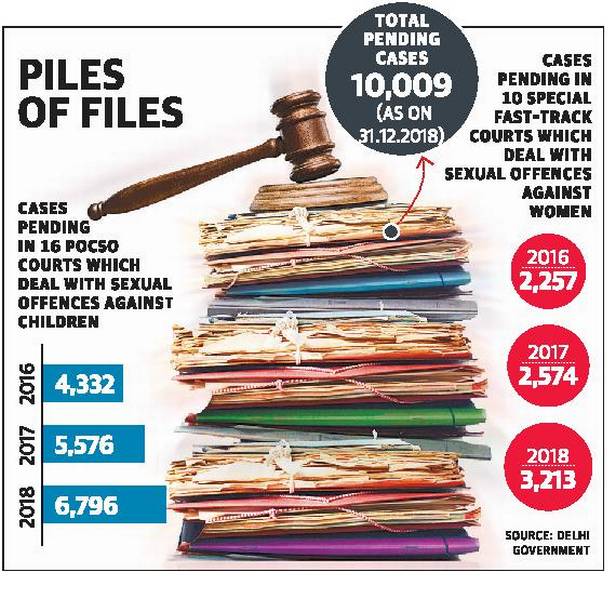 Later in July 2019, speaking in the Lok Sabha, Minister of Women and Child Development, Smriti Irani, reiterated that the government has decided to constitute 1,023 fast-track courts and it will be established "within one financial year" and added that justice delayed is justice denied.
"The High Court has proposed that to begin with, in the first phase, 16 FTSCs be set up in Delhi, followed by more FTSCs in subsequent phases," an official privy to the development said.