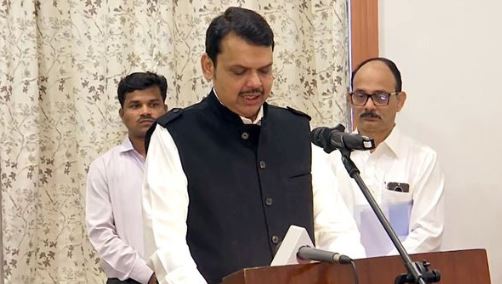 Fadnavis has already been sworn in by Governor B.S. Koshyari, with Ajit Pawar as his deputy
Wheels within wheels? It's more like half a clock in a lotus pond. Just as it looked as if Shiv Sena chief Uddhav Thackeray would be chief minister of Maharashtra with the backing of Sharad Pawar's Nationalist Congress Party (NCP) and the Congress, the Bharatiya Janata Party's Devendra Fadnavis upstaged that alliance early on Saturday morning with the support of the Ajit Pawar faction of the NCP to attain power. It's being called a coup of sorts, with many a behind-the-scenes manoeuvre.
Fadnavis has already been sworn in by Governor B.S. Koshyari, with Ajit Pawar as his deputy. Whether this ends the political uncertainty that followed the split of the Sena-BJP alliance after the assembly poll results of 24 October is unclear. Sharad Pawar claims that his nephew Ajit has acted on his own, which suggests that he has either lost control of the NCP or that this party is headed for a split. All eyes will be on the floor test that Fadnavis will have to face in establishing a majority in the state's 288-seat House.
The BJP has 105 legislators, and needs just 40 more. If the NCP splits, it may still need some more backers from either the Sena or the Congress. On the other hand, Fadnavis may not need any extra legislators. Given the meeting between Sharad Pawar and Prime Minister Narendra Modi in Delhi recently, speculation has been rife of a closet BJP-NCP deal. In all of this, the party left fuming would be the Sena, which seems to have done all it could to achieve power. The party left most embarrassed, politically, would be the Congress. Its decision to support the Sena, a Hindutva party, was seen by many of its supporters as a cynical compromise of its secular principles. The grand old party today has neither a share in the state's power structure, nor a convincing explanation of its dalliance with the Sena.