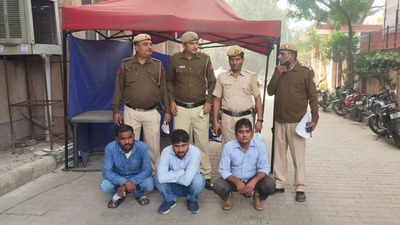 NEW DELHI: Barely nine months after they got married, an assistant professor, Virender Kumar (38), working at a prominent Delhi University college, was arrested late on Tuesday night for getting his wife killed. His nephew, Govind (29), has also been arrested for being an accomplice.
The professor has told the cops his wife, Pinki (32), had shut out everyone else from his life and that he was unhappy over the frequent quarrels he was having with her. He was also nursing a grudge against her because a cheque of Rs 5 lakh his in-laws had given him as a wedding gift had bounced.
The professor's ex-driver, Rakesh Kumar (31), had been arrested Monday after he confessed he had strangled Pinki and electrocuted her. He had claimed she had got him evicted from the house where Virender had allowed him to stay and sacked him too. Hence, he had plotted his revenge. But cops were not convinced.
DU prof felt cheated after cheque from in-laws bounced
Rakesh was changing his versions during his interrogation. The crime spot also seemed to have been dressed up. What must have also played on the mind of the investigators was a complaint filed in August by Pinki's family, expressing their apprehension of a threat to her life from her husband, Rakesh and others.
Virender, who is a PhD in Sanskrit, had married the woman on February 16 this year, according to DCP (North), Sagar Singh Kalsi. The bouncing of the cheque because of insufficient funds had made him bitter. He felt cheated. Pinky arrived at the Burari house in August and asked her husband to throw out Rakesh. It has been alleged that she was not allowing Virender's family members to enter the house.
About 15-20 days back, Virender allegedly hatched the conspiracy to get Pinki killed and roped in Rakesh and Govind. Rakesh had been assured that Virender would take care of his family and that he would also help in bringing him out of jail. However, the plan began to unravel when Rakesh failed to convince the police about his motive and was subjected to prolonged interrogation.
The investigators also checked the footage from around 300 CCTV cameras and obtained his call detail records. "Technical inputs were not supporting Rakesh's claims. After he was interrogated at length, he finally revealed the involvement of Virender and Govind," an officer said.
A distraught brother of Pinki, Manveer, said they had fulfilled all the demands made by the accused during the marriage. "On the day of the murder, my sister informed me on WhatsApp that Govind had come to the house and was behaving suspiciously," he recalled. Pinki used to call her parents between 6-7 pm daily but didn't do so on Monday. "We called her several times but she did not pick up. My sister had once told us that if she did not respond to their calls, then they should think that something had happened to her," he added.
The investigators said all three broke down during questioning. "On the day of the incident, Govind gained friendly entry to the house and then ensured the entry of Rakesh," an officer said. "The woman was sleeping on her bed. The accused gagged her with her clothes and then strangled her. The two then left quietly from another door. They were not noticed by anyone." According to police, Virender had taken his mother to the hospital for treatment while his father, who was at home, could barely move because he is old and bedridden.
Virender was close to Kumar and Govind and both had readily agreed to help him in getting rid of his wife. "Govind was unhappy since the time of Virender's marriage. He felt his uncle had been cheated and Pinki was nothing but trouble for him," said an investigator.