S Ravi who is an ex-BSE chairman affirmatively asserts that the impact that the pandemic has caused on the financial market is certainly unavoidable. The very impacts of the pandemic can be easily visualized by the fact that the banks are generalizing the witnessing request for restructuring which is quite common in the SME/MME sector.
He believes that the sectors that are severely affected by the pandemic are namely aviation, hospitality, manufacturing companies, malls, and such. According to him, the companies that were able to withstand the pandemic are the Fintech companies.
Impact on economy
When it comes to the pandemic impact on the economy, there has been a visible drop in the GDP value of the economy given that the sectors that were adversely affected by the pandemic were however related to the economic value. Specifically, manufacturing has greatly suffered around 30 percent fall by the arrival and somewhat departure of the second wave. Some of the impacts included the loss of several jobs and major salary cuts.
However, stock markets were minimally affected by the pandemic whereas the retail investors almost flocked the overall stock market showing not-so precedent interest. S Ravi has also expressed his views on
Views on the changes caused by the pandemic
The pandemic has led companies and businesses to incorporate work from home in their daily life. In terms of companies, there are a vast number of such companies that have effectively compromised on their establishment costs were the office space was greatly compromised besides the introduction of the secure data protocols. Furthermore, the ex BSE chairman also said that it was approached in a mixed manner where the core objective was to continue the operations of the companies and the businesses and was initiated with strict consideration of the COVID protocols.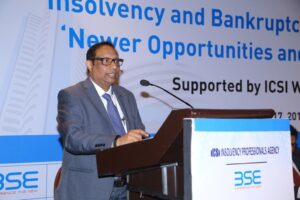 Another point of views
The former BSE Chairman has also expressed his views on the introduction of crypto to the world where he stated that the cryptocurrency has opened the positive gates of the future but given that there has been an active absence of regulations, it is somewhat labeled as risky. Furthermore, he added that if the present condition of the situation is taken into consideration, then it will be considered non-conductive to the crypto trading world because of the minimal investor awareness and regulations.
Adding to that, S Ravi also established his point by keeping forward the point that when it comes to the crypto market, regulations play a vital role so that the mini-investors are offered maximum protection and there is no conduction of misspelling. He further went on to contradict that framing the regulations regularly is not what the current world can afford to do at the moment.
Thus, the former BSE chairman, S Ravi, has strongly kept his views on both the issues related to the pandemic and the new world of crypto and the potential future that it holds for the upcoming generation