Earlier, Mr Rao met BJP president and union home minister Mr. Amit Shah for about 40 minutes.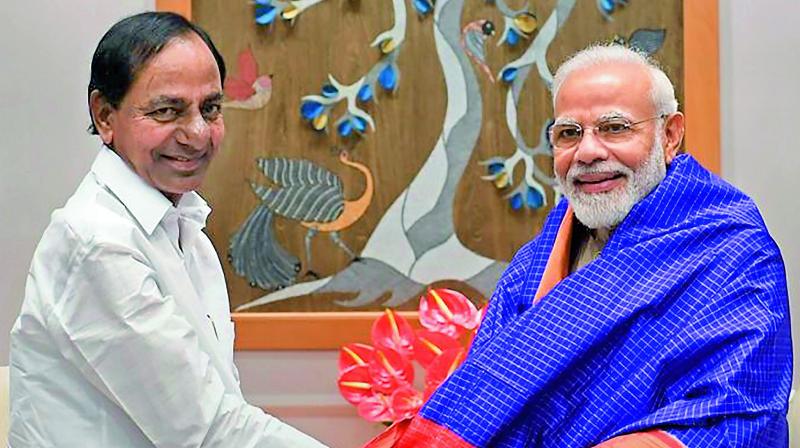 Hyderabad: Chief Minister K. Chandrashekhar Rao discussed the economic slowdown and its effect on development with Prime Minister Narendra Modi during their hour-long meeting, sources said. Mr. Rao met Modi and discussed various issues, including the political situation.
Sources in the chief minister's office (CMO) said Mr. Rao briefed  Modi about the talks initiated by the state government with AP Chief Minister Y.S. Jagan Mohan Reddy with regard to the inter-linking of Krishna and Godavari rivers to share the waters to benefit both states.
Earlier, Mr Rao met BJP president and union home minister Mr. Amit Shah for about 40 minutes. He also called on defence minister Rajnath Singh and discussed the relocation of certain institutions from the cantonment area. The CMO, in a statement, disclosed that Mr. Rao had submitted memoranda on 22 issues to the PM during the meeting and requested him to consider them and take appropriate action.
He brought up the issue of paying the fifth installment of Rs 450 crore under the assistance for backward districts as per the State Reorganisation Act. He urged Mr. Modi to revive the Cement Corporation of India in Adilabad district with the help of the National Highways Authority of India.
Mr. Rao asked the Prime Minister to increase the number of judges in the Telangana High Court from 24 to 42 and to set up an Indian Institute of Management (IIM) in the state, sanction the Indian Institute of Science Education and Research and 23 Jawahar Navodaya Vidyalayas (JNV) in new districts. He sought national project status for either the Kaleshwaram scheme or the Palamuru-Ranga Reddy lift irrigation project.
He told Mr. Modi that Niti Aayog had recommended financial assistance of Rs 5,000 crore for Mission Kakatiya and Rs 19,205 crore for Mission Bhagiratha.
Requesting the PM to provide financial assistance as recommended by the Niti Aayog, Mr Rao urged the release of funds for the completion of railway projects in the state and for the National Investment and Manufacturing Zone at Zaheerabad. He also sought an IIIT under PPP model at Karimnagar.
Reminding Mr. Modi of the promises made at the time of bifurcation, Mr. Rao said the issue of setting up the steel plant at Bayyaram was pending for six years.