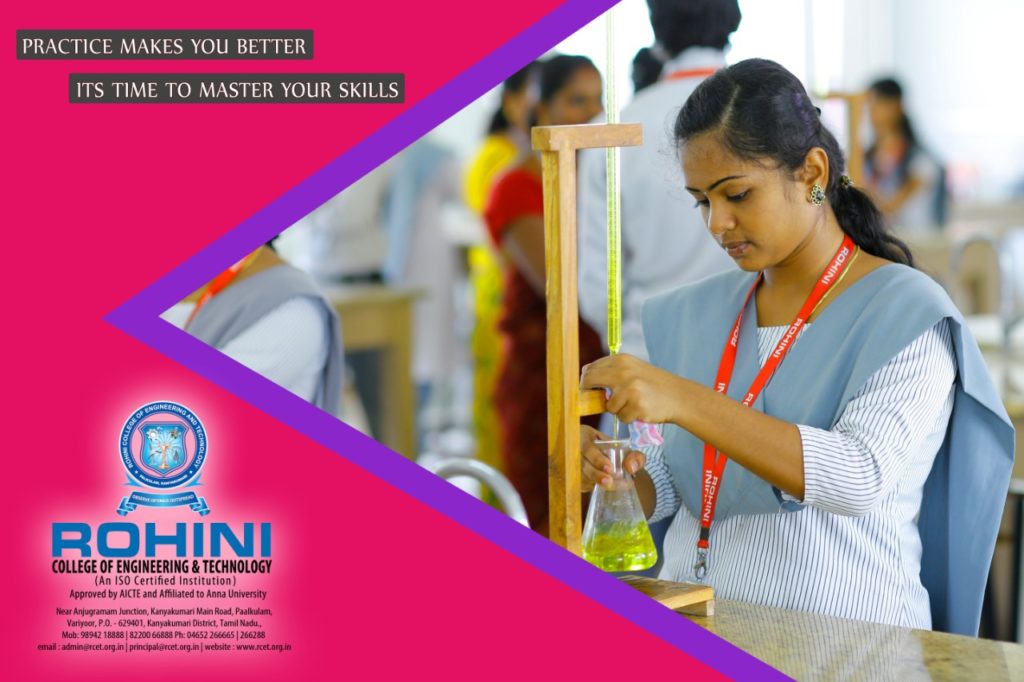 "Develop a passion for learning and you will not cease to grow", these words quoted by Anthony J D'Angelo, a revolutionary in higher education, have great significance even now. When teaching and learning meet passion, it is where the magic of education happens. Resources and accessibility are a click away for this generation but passion is what they lack. This is where Rohini College has a pivotal role to play, says Ayusha, a Rohini alumnus. Anyone can disseminate education, or provide textbook teaching, but the right way of facilitation is rare. At Rohini, They do not just teach the students but facilitate them to develop a passion for learning.
The facilitators believe in mending the environment like it isn't the flower that needs grooming but the soil in which it grows adds Ayusha. Speaking about Rohini College of Engineering, from where she made herself a confident professional and a computer science engineering graduate,
Ayusha just falls out of words. From her talks:
How is learning at Rohini different according to you?
The institute had told us at the time of admission, that they foresee the future of the students along with the world they would build easing the generations to come. They kept their promise that is which you are seeing in front of you now. I am a successful engineer and also my start-up dreams are already budding.
Learning comes from textbooks, but do the textbooks really feed your thoughts? Practical and hands-on learning is a tool Rohini has used for the students thereby allowing them to take the sides of a learner, researcher and teacher. This makes them inquisitive over their subjects, letting them dig deeper into the whats and hows of it and be the masters. Rohini group shares strong and healthy ties with major industries. This helped us to make big leaps as professionals. Interactions with major industry experts enriched us to architect our careers. Many a time this is too rare at many institutions.
How did they help handle the heavy syllabus?
A proper mentoring system is important for any educational setup. We were given the best tutors for guidance. Most of them are highly qualified so we are proud to have been groomed by experienced hands. They care to give us individual attention catering to everyone's needs. That is important as not everyone share similar learning attitude and interests. Engineering was never easy and it never will be. Schools won't tell you that and no known textbooks too, but the right kind of tools can help you to tackle it. Apart from focusing on our technical education, the institute has also cared for our psychological well-being. I should definitely say this because I really feel that every college have to give focus on this too. Many won't say it but most of them are in need of a little help on that side.
You already said about Industry learning, what else were you exposed to during the
course?
We conducted Tech Fests, Expos, and industry related exhibitions and presentation works as part of the course. It involved putting more of our thought process to work technically and also at the organizational level. Our works were reviewed by industry experts and scholars. This actually gave us a platform to showcase our technical skills and also develop them to meet the industry standards. So by involving us in such R&D works, we were put into the pressure of being in a workspace model environment thus making us field ready. At the end of the course, we were given the best placement opportunities in our respective fields. I'm really overwhelmed to share that most of my friends are part of major projects in their respective specialisations. That is most of a college can provide.
Apart from academic excellence, what draws students like you to Rohini institute?
Rohini College of Engineering and Technology is a learning space, they also run a trust. Rohini trust manages the charity based activities. While many colleges take in heavy fees from students, Rohini makes students pay what is necessary but also keep aside some amount for educating poor students. When many drop-out of colleges due to poor financial backgrounds, trusts like Rohini are a blessing which encourage them to continue their studies. So as a socially responsible individual I can say that by paying for my own education I'm also contributing some for such
welfare activities.
From other colleges in Kanyakumari, How is Rohini college different?
Compared to most other colleges there, Rohini's placement record is 487 which is still a far cry for others. This is a fruit of a persistent hard work of many behind it. Rohini's placement cell share good industry relations with 100+ companies, as I have already said. Another notable thing about the institute is it lies close Kerala border. So more students from the state also come in to seek education here. By sharing space with students from different places, we are exposed to diverse cultures. This way we also learn to respect them. I would be more than happy to advise anyone to choose Rohini for their studies, because afterall it is not just technical learning you need at the end of the day, it is beyond any certificates.