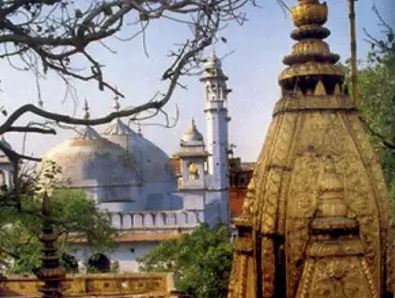 VARANASI: Ahead of Supreme Court's verdict on the Ayodhya case, the process to fortify the highly sensitive Kashi Vishwanath temple-Gyanvapi mosque complex has been intensified by the police by filling vacant positions and repairing or replacing defunct security equipment. ADG Varanasi zone Brij Bhushan said the demolition over 200 buildings for the Kashi Vishwanath corridor project has helped in creating an open ground and arranging foolproof security at the complex, as police and paramilitary forces are now able to properly vigil the area. The entire project site has been isolated using tin sheet walls and barricades, he said while commenting on the possibility of a threat to the highly sensitive site due to the corridor project.
Providing details of the security, Bhushan said, "About 200 positions of civil police were vacant at this highly sensitive site, which has been filled by deploying the required number of policemen of different ranks." "All security equipment including CCTV network, public address system, door frames and hand-held metal detectors, which were found defunct have been replaced or repaired. The anti-sabotage, bomb disposal and dog squads are frisking the areas in and around the complex thrice every day," he told TOI on Tuesday. Mock drills are being conducted frequently and paramilitary forces deployed there for three-tier security, the ADG said, adding that apart from the existing security personnel, additional forces will be deployed in the vicinity of the complex before the SC verdict.

With the beginning of Ayodhya temple movement, the complex was declared a highly sensitive site. The standing committee on the security of this complex came into existence after 1992.
After the city became a terror target in 2005, the sensitivity of this complex increased and security plans were prepared in view of the possibility of terrorist attacks.