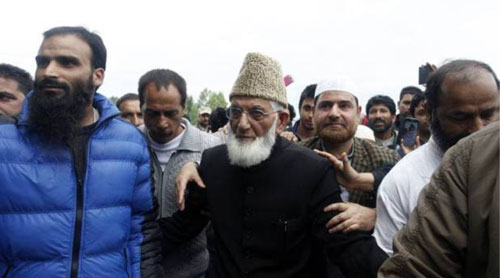 More than 25 people from the Kashmir Valley were selected as potential targets of intrusive surveillance between 2017 and mid-2019 by an as yet unidentified government agency that is also believed to be a client of the Israeli company NSO Group, according to leaked records reviewed.
These include Kashmiri politicians and journalists from both pro-India and pro-freedom camp as well as businessmen.
The numbers of key pro-freedom leaders, politicians, human rights activists, journalists and business persons from Kashmir all figure in the snoop dragnet, South Asian Wire reported.
Hurriyat leader, Bilal Lone's phone data was examined by Amnesty International's Security Lab.
Even though this phone set was not the same as the one he used at the time his phone was potentially targeted as per the leaked database, forensic analysis revealed signs of Pegasus targeting.
The signs appear in 2019, and are likely the outcome of a process initiated by an India-based client of the NSO Group..
Bilal Lone told The Wire that he has since moved away from the political front for now and is instead focusing on the popular bakery which he owns near his heavily fortified residence in uptown Srinagar.
As the forensic analysis shows, attempts to target his phone were made when he was still very much active in politics.
"I used to hear rumours about phone tapping. It never occurred to me that I also may be a target. But I am too small a person to do anything about it," said Lone.
Others on the leaked database include at least two members of People's Democratic party (PDP) chief and former chief minister of J-K Mehbooba Mufti's family.
J-K Apni Party president Altaf Bukhari's brother Tariq Bukhari also makes an appearance in the list and was of considerable interest to the agency which added his name between 2017 and 2019.
His brother, Tariq, who was the subject of potential surveillance, is a businessman and political leader who, in April 2019, was questioned by the National Investigation Agency in a 'terror funding' case.
In addition, at least four family members of Hurriyat leader Syed Ali Shah Geelani's family – including his son-in-law, journalist Iftikhar Gilani and his son, scientist Syed Naseem Geelani – were of consistent interest to the Indian client of the NSO group between 2017 and 2019.
Naseem told The Wire over SMS that he feels that he could have been a target of potential surveillance "probably because of political views of my father". The older Geelani apparently does not use a mobile phone.
The unprecedented leak also shows that the cur-rent head of the Hurriyat conference Mirwaiz Umar Farooq was a potential target of surveillance between 2017 and 2019.
The records reveal that Farooq's driver too had possibly been a target of surveillance.
Waqar Bhatti, a human rights activist from the Valley, was also potentially a target of surveillance. Bhatti believes that he was possibly marked due to his activism.
"I am an activist from Kashmir. The government doesn't like people who are involved in activism in Kashmir," Bhatti told The Wire.
The Pegasus Project data also shows that at least five Kashmiri journalists – including Muzamil Jaleel of the Indian Express, Aurangzeb Naqshbandi with Hindustan Times at the time, Iftikhar Geelani formerly with DNA and Sumir Kaul of PTI – were also targeted in the cyber surveillance programme.
The name of the fifth journalist is being withheld at their request. Shabir Hussain, a Delhi-based political commentator from Kashmir, is also in the list.
There appear to be certain patterns too. Jaleel and Naqshbandi appear in the database at the same time in mid 2018, while Kaul and Hussain appear together in early 2019.
Among others selected for potential surveillance include an influential Shia cleric associated with Mirwaizled Hurriyat and prominent separatist leader Zaffar Akbar Bhat, The Wire report concluded.