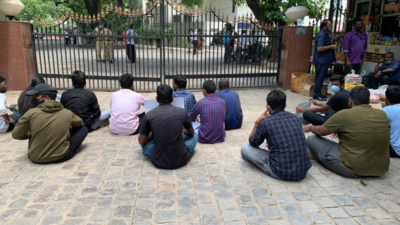 HYDERABAD: Students from Telangana studying in Delhi University and various other educational institutions along with some of the unemployed youth staged a dharna on Friday in front of Telangana Bhavan in New Delhi.
They demanded that all the employees in Telangana Bhavan should be from the new state (Telangana). Of the total 74 employees working on outsourcing basis, only four of them are from Telangana and the remaining from other states mainly north India. All the posts in Telangana Bhavan should be filled up with locals from the state, they demanded.
Telangana Students Association of Delhi president Vivek Reddy told TOI that a majority of the people working in Kerala and bhavans of other states in New Delhi are from their respective states. "It is only in Telangana Bhavan that injustice has been meted out to the locals. The purpose for which Telangana state was achieved gets defeated if locals don't get even outsourcing jobs in Telangana Bhavan, New Delhi," he said.
Former MP Konda Vishweshwar Reddy extended his support to the students. "Just spoke to Telangana students in Delhi. They blocked the Telangana Bhavan gate protesting. There are 74 employees in Telangana Bhavan Delhi. Only four are Telangana Employees and the remaining are from AP and other states. Is this the Telangana we fought for? #KCR FailedTelangana," Vishweshwar Reddy tweeted.
Telangana Bhavan resident commissioner Gaurav Uppal told TOI that the students were under the wrong impression that all the employees were hired after the formation of Telangana state.
"These employees working on an outsourcing basis were hired from time to time spread over several years in the past. While a majority of regular employees in the Bhavan are from Telangana, those working on outsourcing basis are mostly from Hindi speaking states," he said.
Gaurav Uppal said they could have been hired over the years because liaising with officials in various departments of Government of India requires Hindi speaking skills too. However, they were sending the representation and demands submitted by the students to the Telangana state government to take a decision on the issue, he said.